Dragon's Lair approda su App Store
Prezzo: 3.99 € | Download: App Store | Peso: 208MB

L'attesissimo laser-game protagonista della nostra gioventù, fatta da monetine da 200/500 lire e dagli "Insert coin to continue" approda anche in formato digitale, sul display del nostro iPhone, ragazzi è arrivato Dragon's Lair.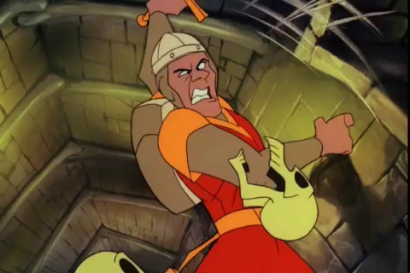 Il gioco, creato da Don Bluth, è la trasposizione del coin-up del 1983, uno dei capostipiti della serie "Laser", caratterizzata da una grafica e una trama cinematografica, e da controlli semplici ma coinvolgenti.
Caratteristica di questi giochi infatti è svolgere la trama, indicando al momento opportuno la direzione che dovrà prendere il nostro eroe che dovrà destreggiarsi tra nemici ed ostacoli. Avrai i riflessi giusti per far salvare la principessa Daphne dal prode cavaliere Dirk the Daring?
Dragon's Lair è disponibile per iPhone e iPod Touch con firmware 2.2.1 e successivi, ed è disponibile in italiano.