[Tutorial] Aggiungere le statistiche di utilizzo su iPad e iPod Touch
Molti di voi avranno notato che su iPod Touch e su iPad, andando nelle Impostazioni – Generali, la voce relativa all'utilizzo effettivo del dispostivo è mancante, il motivo di tale scomparsa probabilmente sarà ben nascosto in qualche documento top secret in quel di Cupertino. Torniamo a noi, e vediamo come attivare tale sezione nel nostro dispositivo.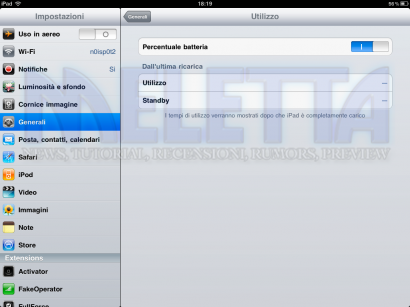 INGREDIENTI
– un iPad / iPod Touch con jailbreak
– un client SSH (Cyberduck per Mac e WINSCP per Windows, per citare i soliti due)
– un editor di files .plist (PlistEditorPro per Mac – Plist Editor per Windows)
PROCEDIMENTO
– collegatevi usando il client SSH sul vostro dispositivo
– andate nel percorso /Applications/Preferences.app/
– scaricate il files General.plist (fate un backup non si sa mai) ed apritelo con il vostro editor Plist
– sotto la voce USAGE eliminate la stringa requiredCompatibilities (usando il programma per mac lo trovate sotto al numero 2, vedi immagine) e rimettete il file dentro al vostro dipositivo sovrascrivendo quello esistente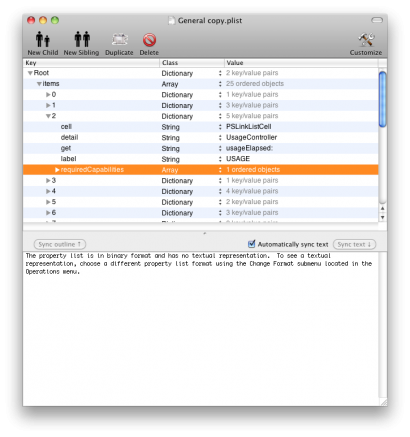 – ora scaricate il file Usage Statistics.plist (fate backup per sicurezza) ed eliminate la stringa requiredCompatibilities presente in "USAGE_ELAPSED", "STANDBY_ELAPSED", and and "USAGE_HEADER", se usate l'editor per Mac, fate riferimento all'immagine, si trovano rispettivamente ai numeri 2, 3 e 4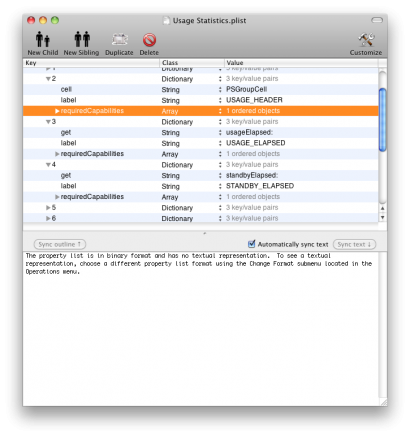 – una volta rimesso anche il secondo file dentro al vostro dispositivo, procedete con un Respring.
– et voilà