Arriva Absinthe (Corona) per Windows, per ora solo in versione CLI (GUIDA)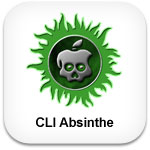 Anche su Windows sarà possibile effettuare il jailbreak del proprio iPhone 4S / iPad 2, ma per il momento non esiste la soluzione da "un tasto e via" (trovate la versione con interfaccia grafica a questo indirizzo). Il Chronic Dev Team ha rilasciato la versione CLI (Command Line Interface), ovvero la versione "nuda" del tool senza interfaccia grafica. Questa soluzione è quindi solo per smanettoni o per coloro che sanno dove mettere mano. L'attesa prima di vedere anche la versione con la GUI  su Windows non dovrebbe essere lunga, se volete cimentarvi ecco il link per il download della versione CLI, funzionante anche su Mac, of course.
PROCEDIMENTO
Una volta scaricato il programma, scompattatelo.
aprite CMD.EXE con permessi di amministratore
andate nella directory dove avete scompattato Absinthe
scrivete questo comando: cinject.exe -i payloads/jailbreak.mobileconfig (sul vostro iPhone vi apparirà la richiesta di installzione di un profilo)
poi questo: cinject.exe -j payloads
ed infine questo:  cinject.exe -w 
sul vostro iPhone assicuratevi che VPN è abilitato nelle impostazioni. (Impostazioni/generali/rete)
POSSIBILI ERRORI
Nel caso ricevete l'errore error recv: Bad file descriptor FATAL(__LINE__): Assertion failed (1266): got == sizeof(size) , dovrete effettuare un ripristino, anche da iPhone stesso andando in impostazioni/generali/ripristina/cancella dati e applicazioni, ovviamente prima fate un backup.
Se l'errore invece è send 1: Result to large , staccate e riattaccate il vostro dispositivo dal cavo USB.